Cost-Effective Laundry Chute Services
Chute Maintenance & Repair
Laundry Chute Installation Services
Some commercial facilities like hospitals and hotels have to deal with a different kind of waste – linen waste. Though this type of waste management is rarely thought to be in the same category as general waste or trash management, it is still an extremely important aspect of managing certain commercial properties. By installing a laundry chute, you'll be able to conveniently dispose of your used linens in the same way that you would dispose of your trash or recycling waste. The only difference would be that your laundry chute will empty the used linens into a clean container where it will be held until the time comes to clean them.
We can install a laundry chute in your commercial facility!
Just like a normal trash chute, a laundry chute can be installed in your building and will incorporate its own metal chute that will direct any used linens down to a designated laundry container. Giant Enterprises has a special team that is specifically trained to install laundry chutes in a variety of commercial settings. Whether you have an office building, hotel, healthcare facility – just to name a few – our team will be able to find and install the right laundry chute for your specific needs.
Laundry Chutes Maintenance & Repair Services
In addition to our installation services, Giant Enterprises will also conduct on-site inspections and can fix any components that might have broken on the chute. From general maintenance to more invasive repairs, our team will get your laundry chute up and running quickly and conveniently!
To better serve our clients, we also offer routine maintenance services that will help prevent your chute from breaking down or getting damaged. This can be scheduled ahead of time and completed without interfering with business operations. Giant Enterprises makes servicing your laundry chute easy and the results often speak for themselves.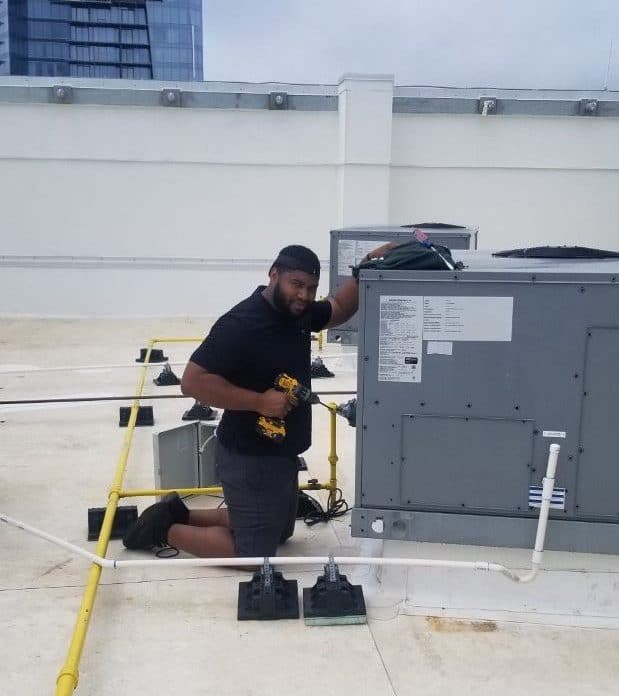 Laundry Chute Cleaning Services
Routine cleaning is an essential part of maintaining any type of trash chute. For chutes that are handling general waste, cleaning is obviously more critical, especially if it has been used to dispose of any hazardous materials. However, when it comes to laundry chutes, the need for cleaning is less obvious, but that doesn't mean it's not as important. In many facilities, chemicals are used during cleaning and they are often wiped away with a towel. Those towels are then sent down the laundry chute to be cleaned. Over time these chemicals have the potential to build up inside the chute which can potentially cause damage. Furthermore, if any damp linens are sent down the chute, the risk for rust arises. All of these risks can be avoided by conducting periodic inspections and performing routine cleanings on your laundry chute.
Call Us Today To Get Started
Giant Enterprises offers both routine and one-time cleaning and maintenance services for your laundry chute. If you have a chute that needs to be repaired, cleaned, serviced, or if you're looking to have a new chute installed, feel free to give our office a call! Our staff is trained to help answer all of your questions and assist you in finding the right service for your business.