Trash Compactors Pretty Bayou
Pretty Bayou, FL Trash Compactors Repair & Set Up
Dealing with waste is easy with a compactor. Trash compactors are key for eliminating offensive odors and very helpful for saving space. Our expert technicians perform an inspection every six months to guarantee the performance of our compactors.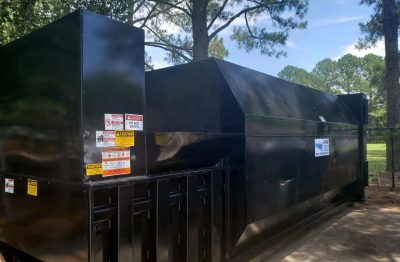 Trash Compactors Sales and Service
Giant provides a Compactor Maintenance Program that consists of both odor control and equipment maintenance to address the specific needs of compactors. Every six months, a Giant Technician inspects, makes adjustments and repairs items that can hinder a compactor's performance. Everything from gauges and switches to hydraulics are maintained to peak operating efficiencies.
As a full-service vendor, we can provide temporary containers while your compactor is being repaired. We fabricate and weld damaged sections of compactors, such as casters, and pads.
"Giants product is an awesome addition to our space. Great product and even better company to work with."
– Patrick M.
Get started on property improvement today!
Contact us for a consultation, estimate or for any questions you may have. We work hard to provide solutions fast!